On the Event information tab of the Overview page, you can enter key information and details about the event for bidders. You can also create customized event tags to make your events more searchable and discoverable on your Events page.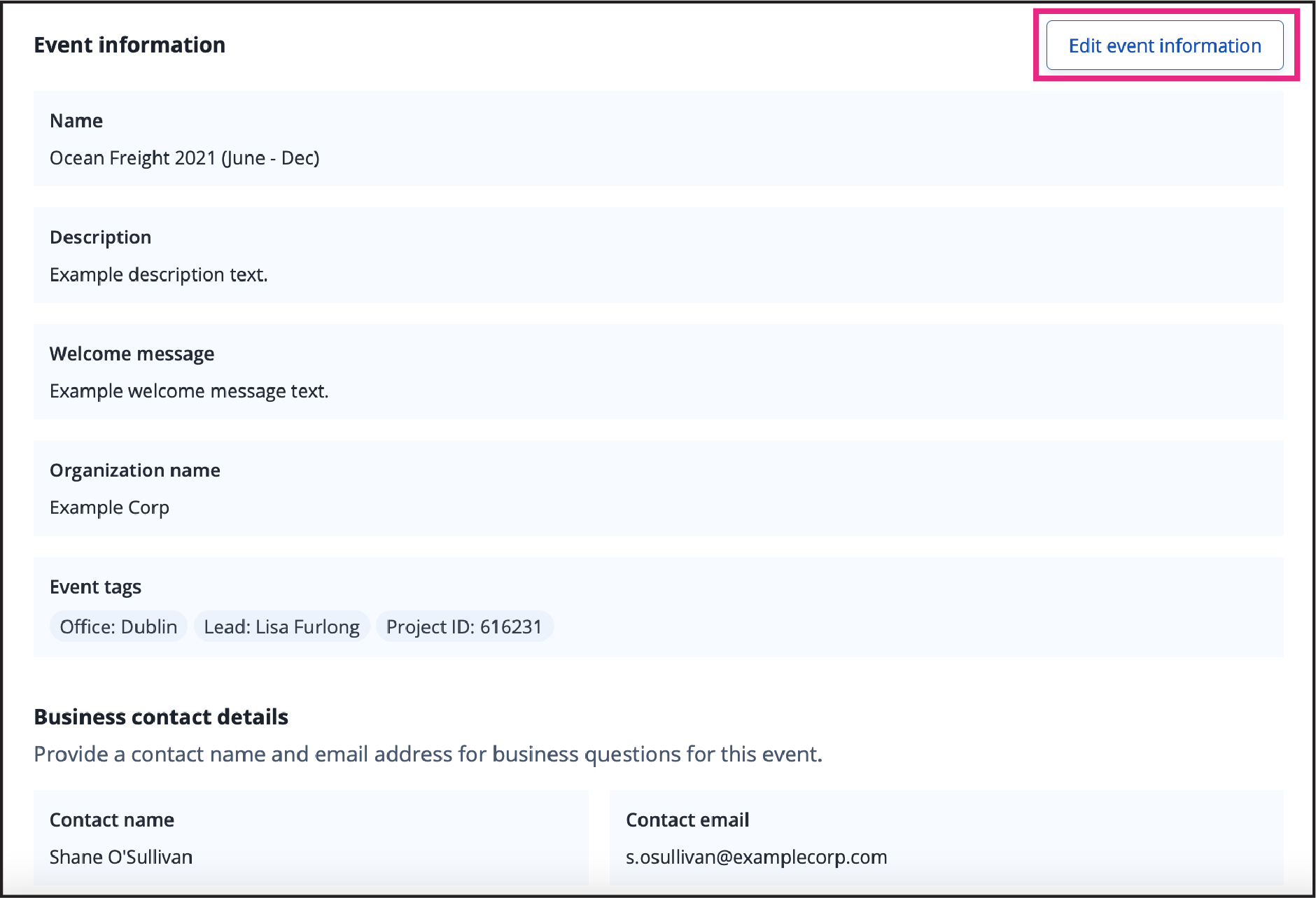 Use the Event information fields to provide your organization's contact details and the relevant event information to all invited bidders. Some information, such as the Name, Description, and Organization name, is included in the invite email sent to bidders, while other information, such as the Welcome message and Business contact details, is provided when the bidder accesses the event.
Name
This is the name of the event. The event name is displayed in the invite email sent to bidders and on the Events page.
Description
Write a brief description of your event. This text is included in the event invitation email that is sent to bidders. It is also displayed on the event, on the Events page. The description cannot exceed 300 characters.
Welcome message
Write a welcome message to bidders that includes any additional details or instructions for the event. This text is displayed in the event and in the downloaded bid sheet. Your event welcome messages are also searchable using the Events page search feature.
Organization name
Enter an organization name for your event. Bidders see this name as the organization running the event. This field is pre-populated with your Organization name as per the Organization Owner's account settings but can be updated as required on a per-event basis.
Business contact details
Include a contact name and email address for the person from your organization who is managing business-related questions for the event. If you do not want to make business contact details available, ensure each field is empty.
Event tags
Event tags are a useful way to label your events, make them more discoverable, and align them with your organization's workflow. Event tags are completely customizable, so you can create whatever tags you want to suit your own, or your organization's, tracking or project management system.
Enter each event tag on a new line. Event tags appear under the Event name on the Events page, and are searchable using the Events page search feature. Event tags are not displayed to bidders.
When designing your event, ensure that you include all the necessary information you want to provide for bidders. However, you can edit and update the event information whenever you require.
To edit the Event information, complete the following steps:
Go to Design > Overview.
On the Event information tab, on the right side of the page, click Edit event information.
Edit each field as required.
At the top of the page, click Save changes.