Keelvarsity is Keelvar's online self-service product training platform.
As part of the customer onboarding process, new users are invited to enroll in training programs. If you are an existing user who has not received training and would like to be enrolled, contact your Keelvar Customer Success Manager (CSM) or our Support Team.
Courses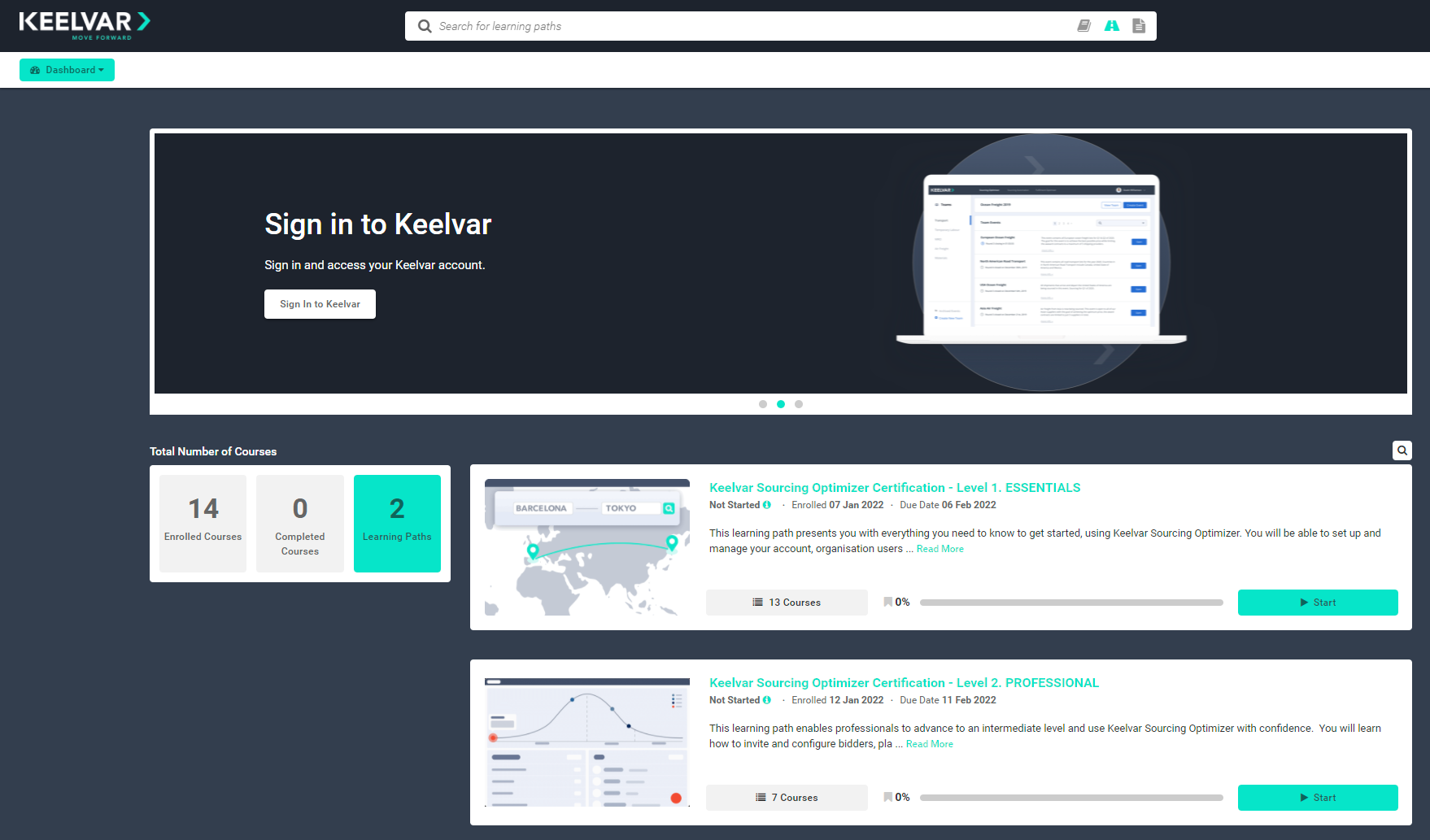 Keelvarsity features carefully-curated courses, learning paths, and modules that enable you to learn at your own pace and train yourself on Keelvar's products. Keelvarsity is currently focused on Sourcing Optimizer and offers a Keelvar Sourcing Optimizer Certification program.
This program and certification process is divided into three learning paths. Initially, you will be enrolled in the basic, entry-level course, Level 1. Essentials. After you complete this course, you can progress to Level 2. Professional, and finally, Level 3. Expert. Each path progresses in complexity and builds on knowledge gained in the previous course.

Introduction to Keelvar SO

Set up Account Settings and Organization User

Create an Event

Design the Event

Design the Event Schedule

Design the RFI

Design the Bid Sheet

Send Messages to Bidders

Publish Events

Create Scenarios

Design the Event Settings

Invite and Configure Bidders

Place Surrogate Bids

Manage Existing Events

Review Bidders

Review Bidder Activity

Award Round and Close Event

Create Lot Groups and Bidder Groups

Review Scenario Analysis

Review Scenario Visualizations

Review Bid Analysis

Review RFI Analysis
Resources
Keelvarsity also features a resources sections with additional content such as webinars, and will soon include advanced courses for Sourcing Optimizer, courses focusing on Sourcing Automation, and courses covering new product features and functionality as they are released.