Use the Rate Finder to search for available rates or request new rates. This article describes the user interface and available actions at each stage of the process for requesting a new rate and also highlights the different user interface elements that are displayed when rates are already available.
For step-by-step instructions on requesting rates and searching rates, see Requesting a new rate and Searching available rates.
The examples featured are from an ocean freight configuration. Your rate card and request details may differ depending on the transport category and the configuration used by your organization. However, the basic steps, workflow, and processes are the same for each transport category.

Entering the Origin and Destination
To begin, in Fulfillment Optimizer, in the top-left corner of the page, click Rate Finder. When searching for or requesting new rates, the first step in the process is to enter the origin and destination locations.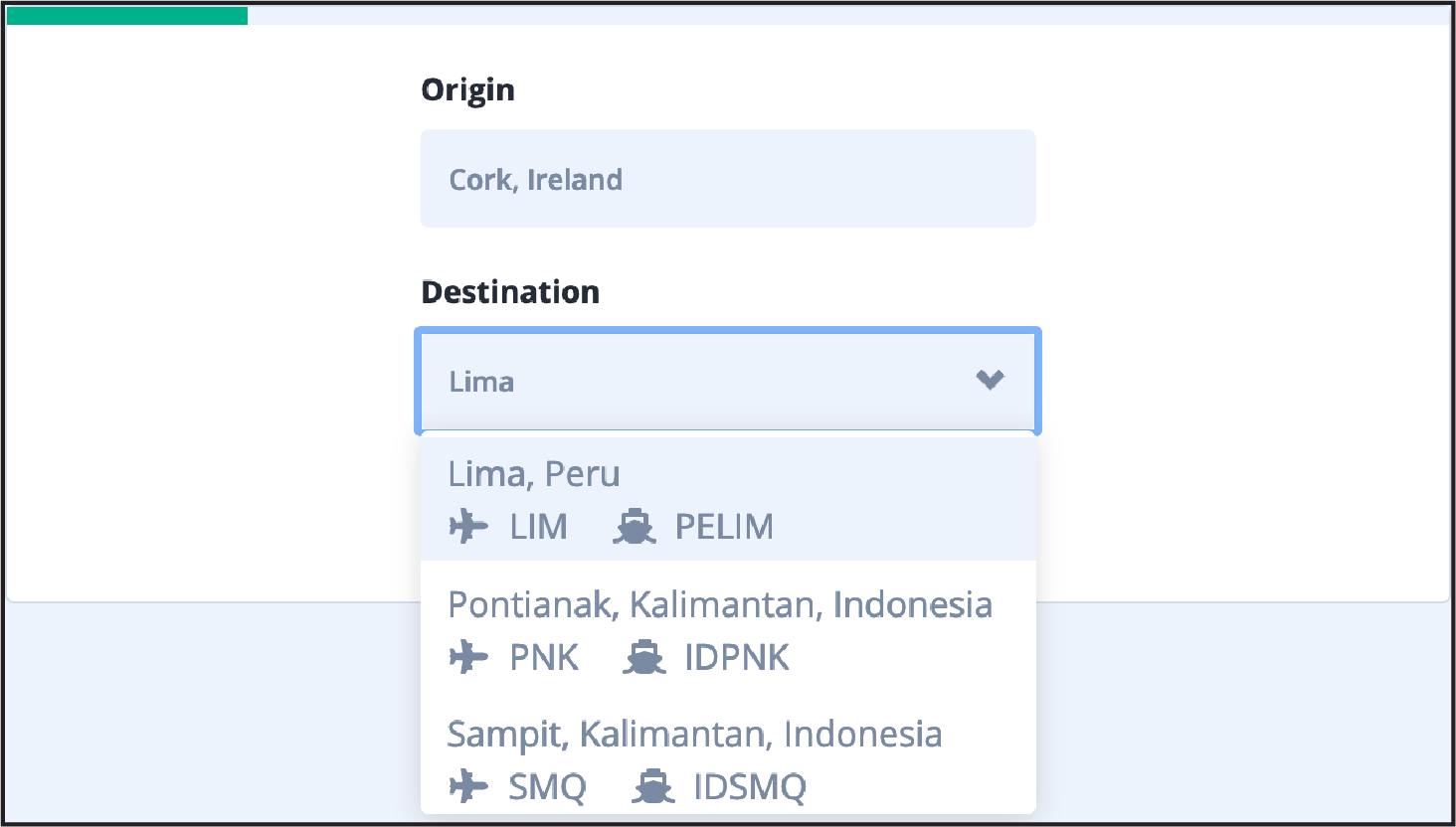 Selecting the rates
The next step is to select the items that you want to search or request rates for. Depending on your Sourcing Bot configuration, multiple rate cards may be available. Figure 3 shows an example where two rate cards are available: a full container load (FCL) rate card and less than container load (LCL) rate card. Ensure that the correct rate card is selected before selecting rates.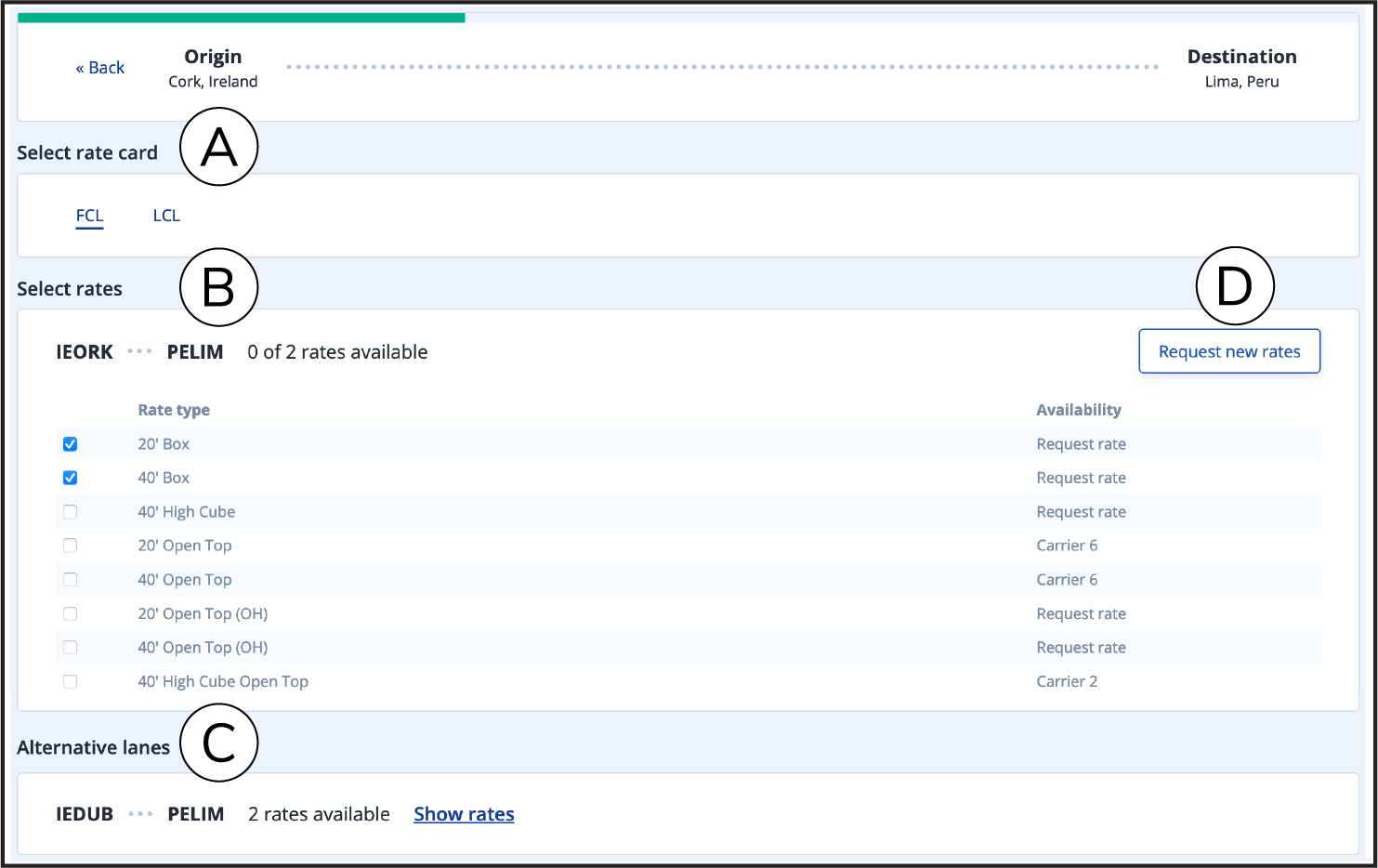 Select rate card: This area lists the available rate cards.
Select rates: This area lists the items that you search or request rates for. If rates are available for an item, the suppliers who have provided rates are listed in the Availability column; if rates are unavailable, Request rate is displayed.
Alternative lanes: This area lists alternative lanes with available rates. The alternative lanes offered are from origin or destination locations from the same region or country as those requested. If alternative lanes are available and suitable, they can provide additional options and save you the time of going to the market for new rates.
Request new rates / View details: After you select the checkboxes of the items, click this button to proceed to the next stage. If you select items for which no rates are currently available, this button displays Request new rates. However, if you select items for which rates are available, this button displays View details.
Completing the Request new rates form
When requesting rates, the final step is to complete the Request new rates form to provide all the relevant details about the request, including the type of service, the bidding duration, the volume required, and more. Figure 4 shows an example for ocean freight.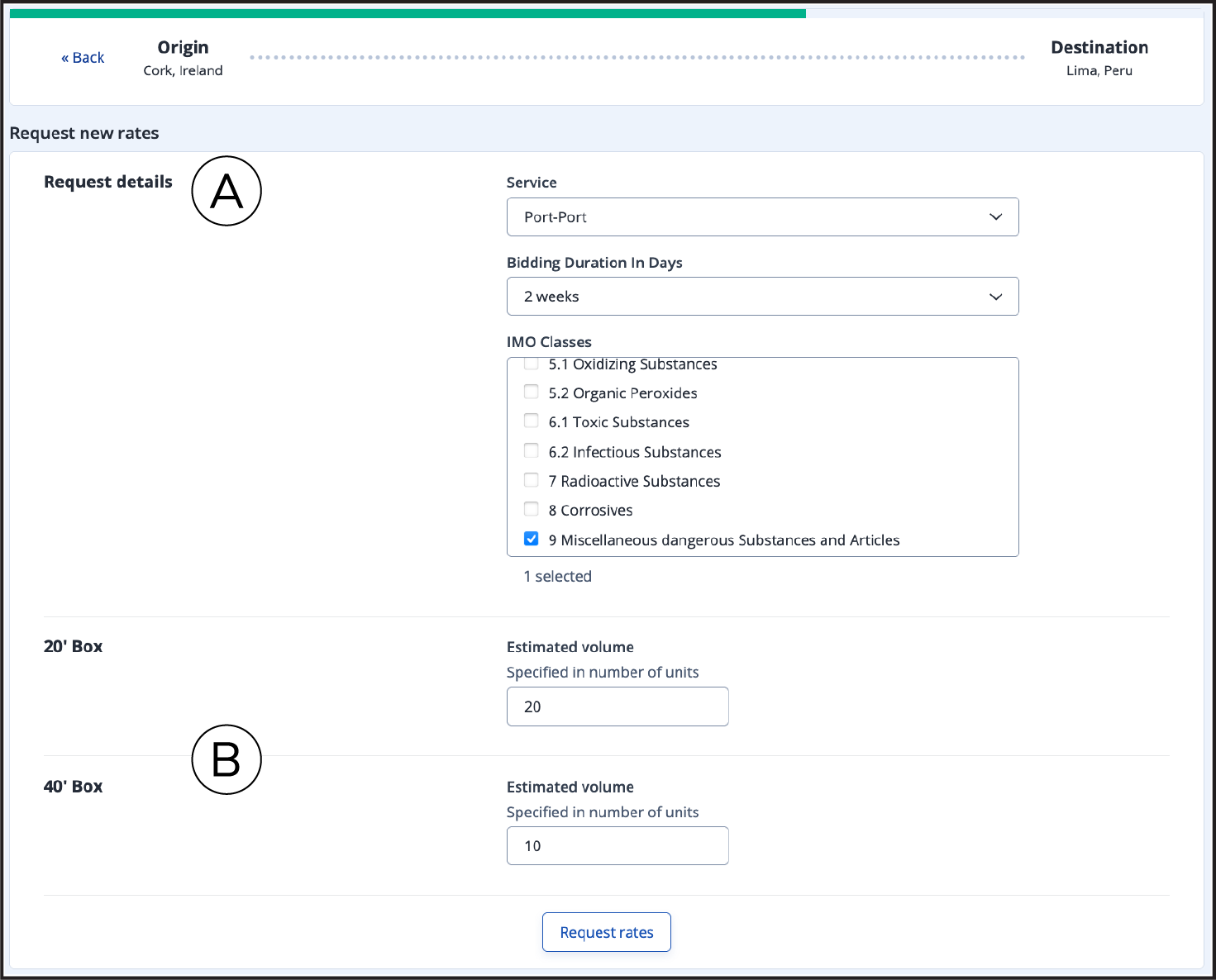 Request details: This area of the form features different inputs for information about the request. The request details form differs depending on your organization's requirements and the spend category.
Item details: This area of the form features different inputs for information about the items requested. The details required differ depending on the type of item requested, your organization's requirements, and the sourcing category.