What's new
A streamlined bulk-uploading action for supporting documents, improved application accessibility, and enhanced in-app communication for purchaser and bidder users.
To speed up the event design process, we have added the ability to upload multiple supporting documents at once.
As part of ongoing continuous improvements, we have made a number of changes to make user interaction and navigation more accessible.
We've made a number of small but significant enhancements to our in-app communication and user interface in key areas to improve both the the purchaser and bidder experience.
In addition, we have fixed a number of minor bugs and issues. The bugs and the version number they were fixed in are listed at the bottom of the page.
Features and updates
Upload up to 10 supporting documents at once
You can now bulk-upload multiple supporting documents — up to 10 — at once when configuring your event overview settings. To facilitate an even faster uploading process, you no longer have to configure document visibility settings or add descriptions as part of the upload flow. You can now edit and update these settings afterwards.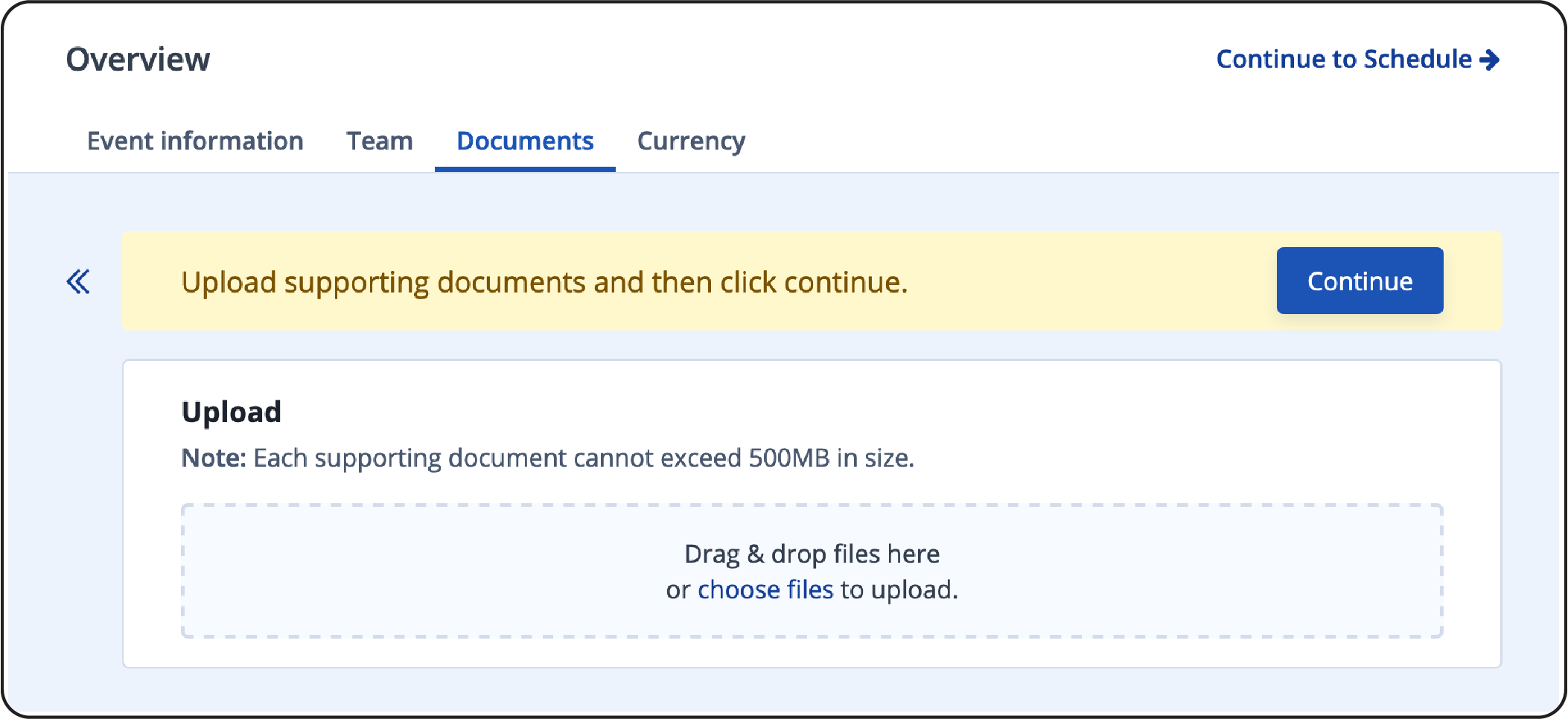 Multiple accessibility updates for improved usability and navigation
Sourcing Optimizer's user interface has been updated to allow screen magnification of up to 400% zoom.
Improved keyboard navigation for the side panel menu and submenu items has been added.
Screen reader functionality for checkboxes has been fixed and updated.
Some headings and page elements have been updated to ensure better consistency.
Improved in-app communication for purchaser and bidder users
We have updated our user feedback and error messages to better communicate virus and malicious threat detection in key areas of Sourcing Optimizer. When purchaser users upload supporting documents on the Overview page or reference documents on the RFI page that have been scanned and identified as potentially malicious or corrupted, they will receive feedback messages informing them of the issue.
Error messages indicating the presence of malicious or corrupted files are also provided during the pre-publish or resume event validation process.

We have also improved bidder communication for accessing the event's bid sheet and the requirement to complete and confirm all RFI gating questions before certain tabs and actions can become available. Bidder users now receive clearer and more actionable instructions when hovering over locked tabs.

Bug fixes
Table 1. Sourcing Optimizer Bug Fixes

| | |
| --- | --- |
| Version | Description |
| 22.12 | Some users encountered an issue that prevented them from closing auction events. This has been fixed. |
| 22.15 | For a brief period, applying filters on the Events page or the Questions tab of the RFI page did not update either list. The filter functionality has been fully restored in both areas. |
| 22.15 | When submitting surrogate bids where a divide-by-zero issue is present in the cost calculation formula, or when publishing an event where a divide-by-zero issue is present in a formula column, users received a generic error message rather than a more specific divide-by-zero error message. This has been addressed and clarified with improved error messaging. |
| 22.28 | When configuring RFI questions with single-choice or multiple-choice response types, purchaser users could save the questions and proceed without creating the options for bidders to select. Sourcing Optimizer now prevents questions with single-choice or multiple-choice response types from being saved if selectable options have not been created and presents the user with an error message notifying them of the issue. |