All recordings of the previous webinars are available in Keelvarsity. Please, do not hesitate to contact the support team or your CSM if you do not have access to the Keelvarsity training portal.
These webinars provide an overview of key information and functions for getting the most out of Sourcing Optimizer. Webinars can be viewed in any order, and each webinar includes an overview of the content, as well as a brief summary of what is discussed.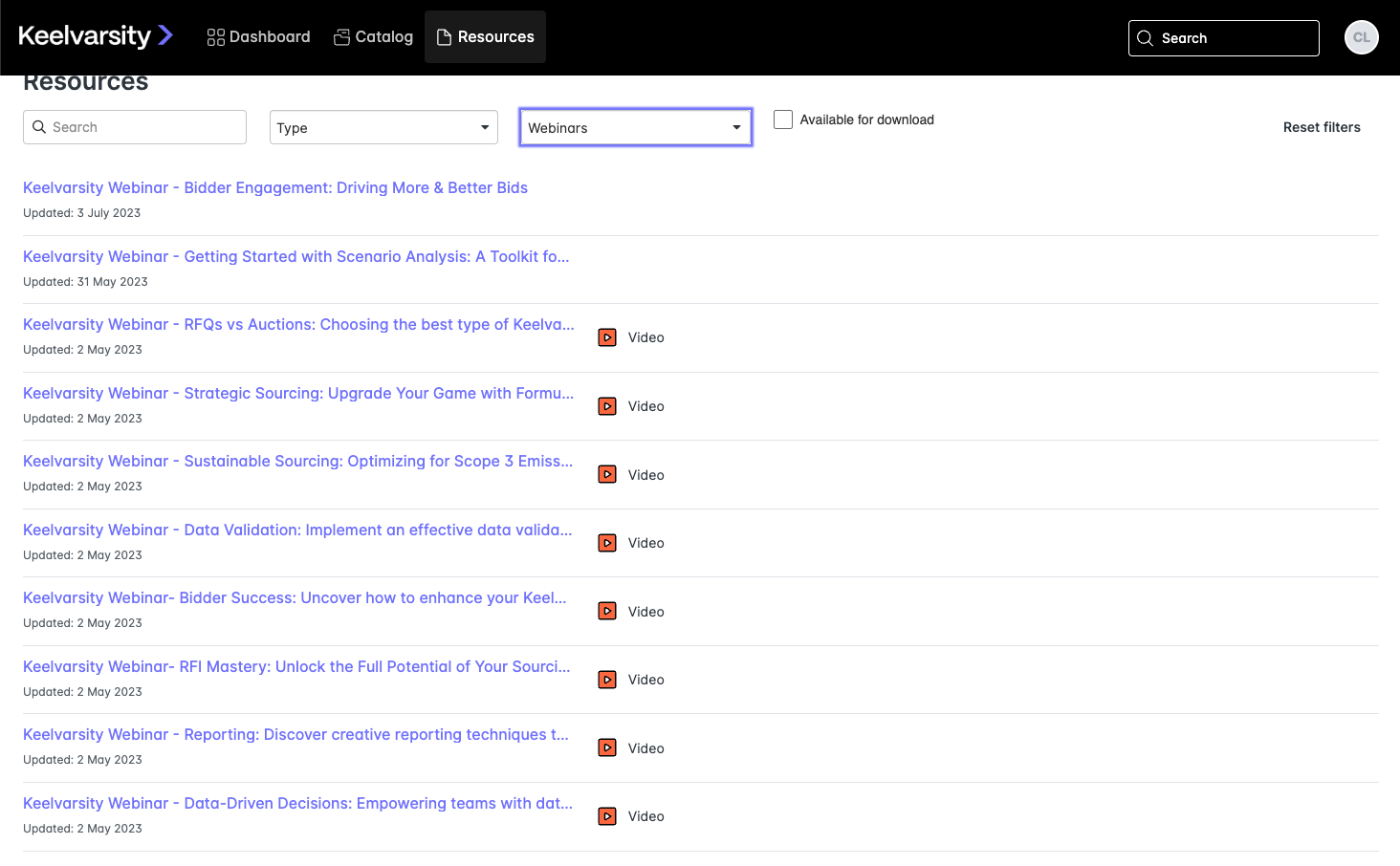 All recordings of the previous webinars are available in Keelvarsity.
In this episode, we will introduce and showcase the ALICE (Automated Line Item Calculation Engine) bot, previously known as the Shipment Data bot, within Keelvar Sourcing Optimizer. We will delve into its use cases, specifically how it can be employed to evaluate fixed or variable costs such as weight, pallet breaks, Czarlite, and distance prices against historical volume records. Additionally, we'll explore best practices for creating a bid sheet in Keelvar to effectively utilize ALICE, demonstrate the process of launching an LTL event and utilizing ALICE to consolidate shipment-level data at the lot/lane level, and present a case study for hands-on practice with ALICE.

Learn

how to simply collect rates in multiple currencies by leveraging our new Linked Currencies feature as well as show you best practices in working with currency within Keelvar

Discover the best practices to drive bidder engagement and performance at each stage during an RFQ to maximize the participation, coverage, and ensure a seamless experience for bidders.

In this episode, we'll cover common scenarios with basic rules that will help you understand the concepts as well as scale up your usage of the feature.

Let's dive into the Keelvar RFI functionality and uncover techniques and best practices to help provide you with improved outcomes from your sourcing events.

We're going to show you how to implement an effective data validation strategy and enhance bidder participation. By using Keelvar's Data Validation features and rules, you can reduce your RFP cycle time and the manual efforts associated with data cleansing and validation.

In this episode we will focus on Reporting: Unlocking hidden value within Keelvar. We will discuss creative ways to leverage reporting within Keelvar, as well as our new negotiation guide to help aid in analysis and decision making.

Let's take a look at Bidder Success and how to enhance your bidder experience. Expect real time examples of the registration process, bid submittal process, and troubleshooting error messages. We will also be highlighting how to use the Keelvar Support portal.

In this webinar, we discuss two Keelvar event types — RFQs and Auctions — and how to choose the best option for your sourcing event.

In this episode, we focus on more advanced Keelvar Scenario Analysis and the different tools available in Keelvar's Sourcing Optimizer that will enable you to get the most out of your next RFP.

In this webinar, we focus on feedback, formulas, and outlier analysis.

This webinar presentation features a demonstration of how Sourcing Optimizer's scenario analysis feature can support sustainability objectives in a road transportation event.
If you require technical support, please contact Keelvar Support.